We receive questions regarding the costs of our IV sedation services quite frequently. It is not uncommon for us to get the question of "How much does it cost to be put to sleep at your dentist office?" more than once a day. As an office that routinely does several sedations per week, we are sensitive to the out of pocket costs that our patients must bear.
Our experience is the following: for most patients, insurance covers most of the sedation costs for most procedures.
Assuming there is no insurance involved, our fee for IV moderate sedation begins at $500. We find that for very quick procedures that do not take too long – such as a single tooth extraction – our fee typically remains at $500 (again, assuming no insurance). For lengthier appointments involving multiple procedures (root canals, extractions, etc.), the fee is higher and is always determined on a case by case basis.
It is worth noting that this fee includes:
The sedation medications themselves (whether they are IV, oral, gas, or all three).
The IV start, IV catheter, and fluids (many hospitals and clinics bill this separately).
Accessory medications we may use. For example, if you need an anti-nausea medication such as Zofran (ondansetron) added post-operatively into the IV, we do not tack on an additional charge.
Lastly, and most importantly, the monitoring, experience, and licensure that Dr. Nick Calcaterra and his trained assistants bring to your case.
It is also worth noting that most hospital based anesthesia services will cost over $1500 per hour. And traveling anesthesiologists typically have a minimum fee of anywhere from $800 to $1000 and then charge around $300 per 15 minute interval. Those fees can add up quickly – so it makes sense to stay in one facility and have the anesthesia administered by the dentist providing the treatment – which is exactly what Dr. Nick Calcaterra does.
Does My Insurance Help with Sedation Dentistry Costs?
In most cases, dental insurance or medical insurance will pay for some or all of the sedation fees.
Generally speaking, here are circumstances in which insurance will usually cover twilight sedation:
Impacted wisdom teeth or other teeth extractions. As a broad generalization, if more than one tooth is being removed, there can be coverage.
When it is not possible to perform the procedure with local anesthesia.
For patients with certain medical conditions (for example – some Special Needs patients are unable to tolerate procedures without sedation).
And many others.
As an example, after treating hundreds of patients affiliated with Yale University, we've found that most of the time, our patients have great IV sedation coverage for wisdom teeth extractions.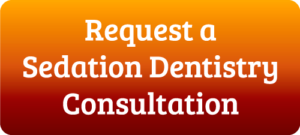 As usual, you always want to make sure your provider has the proper license to provide IV sedation or general anesthesia. Please visit this page to learn more or go directly to the Connecticut licensing site. Dr. Nick Calcaterra is fully licensed to provide IV sedation in his office in Orange.
Are you nervous about dental treatment? Interested in being sedated? Want to be seen by one of Connecticut's most experienced sedation providers?If yes, call us at (203) 799 – 2929 or visit this page to request an appointment.