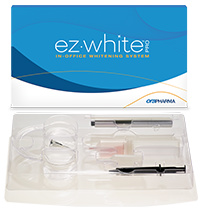 Teeth whitening, also known as tooth bleaching, is one of the most popular cosmetic dentistry procedures in our office. Whether you have always had "yellow" teeth or you routinely observed stain while you smile, our whitening solutions can help. We offer:
EZ White Pro – an in-office solution that lets you walk away with a whiter smile after just one visit.
NiteWhite – at home bleaching gels to be used in custom fit trays.
Details on both solutions are discussed below.
Before and After Teeth Whitening Photos
The following is a case completed in our Orange, CT office using the EZ White Pro solution. Other patients have experienced similar results. These are real photos taken by us – not the canned or recycled ones commonly seen on other dental websites.
In addition to the dramatic results, these patients experienced almost no post-operative sensitivity.
About EZ White Pro Whitening
The EZ White Pro product is a brand new whitening solution providing exceptional results with little to no discomfort.  It is an in-office process that allows you to walk out of our Orange, CT office several shades brighter!
Using this system, you should plan to spend a little more than one hour in the chair. We recommend you bring a source of music to listen to. We will give you special goggles to protect your eyes. We begin by polishing the teeth to remove any superficial stain.  We then apply a concentrated whitening solution to your teeth and then use a light to activate and accelerate the whitening. We repeat this process several times for a time period of approximately 45 minutes. We then review special diet instructions.
A little over one hour later, you walk out with a brighter smile with virtually no sensitivity.
About NiteWhite Take Home Solution
This solution is for the patient who wishes to achieve whiter teeth while at home at his or her own pace.  We make molds of your teeth in a single office visit. You return a couple of days later and we try in your custom whitening trays. You also pick up the concentrated NiteWhite bleaching gels.
Once at home, you dispense the powerful whitening gel into the trays and then place the trays over the teeth. The trays will fit exactly to your mouth and no bleaching gel will leak onto the gums nor will saliva enter into the trays. You can do almost anything while wearing the trays except eating, drinking, and other similar tasks.
Within 7 to 14 days, you will experience a smile several shades brighter.
Teeth Whitening Frequently Asked Questions
What is the difference between teeth "whitening" and "bleaching"
None. There is no difference. They are both names for the same process
What is the difference between your whitening solutions and products I can buy at the supermarket?
There are several key differences:
Our products contain a much higher concentration than what is available OTC. This means you get a brighter smile and that it is achieved much more quickly.

Our products contain built in de-sensitizers to reduce post-whitening sensitivity.
Our trays are custom built for your teeth and gums. This ensures a more comfortable fit and eliminates the likelihood of the bleaching agent burning the gums. OTC products typically leak which can lead to painful ulcers on the gum tissue.