Dr. Nick Calcaterra recently sat for and passed the rigorous exam to become a Master in the College of Sedation in Dentistry. This makes Dr. Calcaterra the only general dentist in the entire State of Connecticut who has achieved this prestigious certification who is actively providing IV sedation.
This accomplishment, along with being one of only a select few general dentists in all of Connecticut with a license to provide sedation, has made him the most accomplished sedation dentist in the entire state.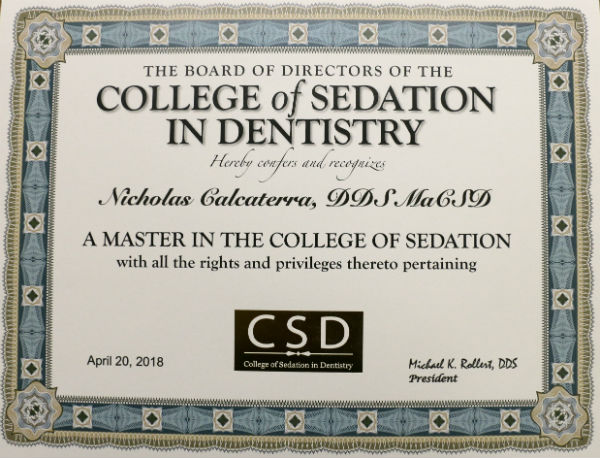 What is the College of Sedation in Dentistry?
The College of Sedation in Dentistry was created and is maintained by the American Dental Society of Anesthesiology. ADSA, as it is called, is the professional organization representing dental professionals who employ advanced forms of sedation and anesthesia to patients.
The College of Sedation is designed primarily for general dentists and periodontists who wish to further their anesthesia skills. Achieving Master Status – which is the highest level a general dentist or periodontist can achieve – indicates that the provider has complete mastery of all the skills needed to perform IV sedation in his or her office. The rigorous prerequisites – along with a three hour board exam – make it extremely difficult for providers to achieve this status.
Why Sedation Dentistry with Dr. Nick Calcaterra?
Dr. Nick Calcaterra's vast experience and expertise in sedation for dental patients is what sets him apart. And becoming the only general dentist in Connecticut to be admitted as a Master is testament to his commitment and knowledge.
Dr. Nick averages over 100 sedation cases per year, performing procedures such as extractions, root canals, and even simple fillings. For Dr. Calcaterra, sedations are an almost daily procedure. Most other sedation providers – assuming they even have a sedation license – average only one or two cases per month.
Our vast experience in providing twilight anesthesia to patients – along with our caring staff – and Dr. Calcaterra's deep expertise – are why Connecticut patients choose our office.

Are you interested in learning more about sedation dentistry? Then you've come to the right place! Go to this page to request a consultation or call us at (203) 799 – 2929. Dr. Nick and two assistants Cyndi and Amanda will be happy to help you.